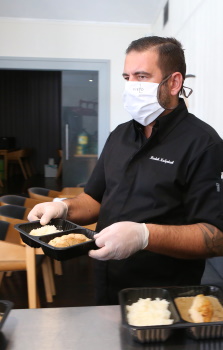 We helped during COVID crisis
In April and May 2020 during the COVID crisis, when the restaurants had to stay closed, we didn't want to sit at home and wait. We love top gastronomy and through it we thanked all the medical staff which we admire for their excellent work in hospitals. We cooked a total of 4 460 lunches which we donated to medical personnel in Prague hospitals Na Františku and Pod Petřínem.
You helped us
We cooked the lunch for free, and we paid all the costs. We also raised a donation campaign, through which the donors could have helped us with the food ingredients costs, which totaled 3 EUR (80 CZK) for one lunch. We have been able to raise an awesome amount of 323 197 CZK (11 830 EUR) which covered the ingredients costs of 4 040 lunches. We are extremely grateful for all the donations and would like to thank all our donors for their generosity.
Thank you!