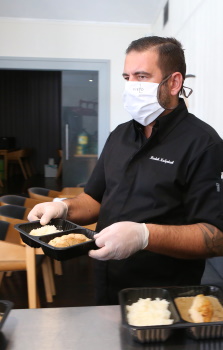 We cook free lunch for the Motol University Hospital
Same as for the first wave of Covid-19 in the Czech Republic, for the second wave we again decided to cook free lunch, this time for the pulmonary department at Prague's Motol University Hospital. We love top gastronomy and through it we want to thank all the medical staff which we admire for their excellent work in hospitals. Starting November 2nd we'll cook 160 delicious lunches, which we will provide for free to the medical staff of the Motol Hospital.
Please donate
We cook the lunch for free, we do our work voluntarily and we pay all the costs ourselves.

We would like to offer you an opportunity to help us with the food ingredients costs, which equal 100 CZK per serving. You can donate using this donation page that we run in cooperation with the Via foundation. All your donations will be used for food ingredients cost only, which is 100 CZK per one serving. If the total donations we collect are higher than the ingredients costs for all the lunch we cook, we will wire the outstanding amount directly to the hospital.
Thank you very much for your help!